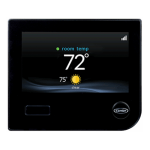 Wi-Fi thermostats keep you connected to the energy management of your home. The thermostat is the control panel of that system when it comes to climate control. The quality of your thermostat can impact your energy efficiency, utility bills and your comfort.
Thermostats that don't monitor the temperature in your home accurately can cause a number of problems. Heating and cooling your home accounts for nearly half of your average utility bill so it is important to have the proper control over your HVAC system. Air Quality Controls installs high quality thermostats by Carrier, offering cutting edge technology.
Programmable Thermostats
A programmable thermostat allows you to adjust settings to match your system to your lifestyle. They at typically digital and include options for you to set different temperatures at different times of day. This helps reduce utility costs by reducing the need for climate control, whether heating or cooling, when you are not home. It can also add to your comfort by automatically maintaining one temperature over night when you're sleeping and then adjusting in morning as you wake up.
WI-FI THERMOSTATS
Digital thermostats can also offer wireless function. This feature allows you to move your thermostat around the house as needed to better control the climate of the room in which you are in. They can also be programmed from your smart phone so whether you are home or out, you maintain total control over your system.
Trimming monthly bills by an average of 30%, these aesthetic and intuitive controls offer helpful data as well. They can display your weather forecast, energy tracking, reminders to change your filter, maintenance alerts, and energy-saving tips. The unrivaled capabilities of Carrier's Infinity Series Controls represents the highest degree of comfort management.
Carrier's ecobee Smart Thermostats can actually adjust themselves to your schedule, your personal preferences and the local weather. They also relay details on your energy savings each month and provide insights into the performance of your heating and cooling equipment. And if that's not enough, the ecobee SmartThermostat Pro offers voice control!
Use Qualified Technicians for Wi-Fi thermostat installation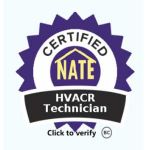 Air Quality Control makes it easy to install or upgrade your thermostat. We've assembled a team of NATE-certified, factory qualified technicians who are dedicated to superior service and customer satisfaction.
Each of our installation and service technicians are company employees. We use no subcontractors, thereby assuring the highest quality workmanship, and protection of our customers. Our uniformed professionals show up on time, perform thorough cleaning and maintenance, and leave no mess behind.
Contact us today at (727) 347-0202 to upgrade your thermostat or GET STARTED Today by completing our online form!